Women, Caste and Reform: History Class 8 chapter-10
Women, Caste and Reform: History Class 8 chapter-10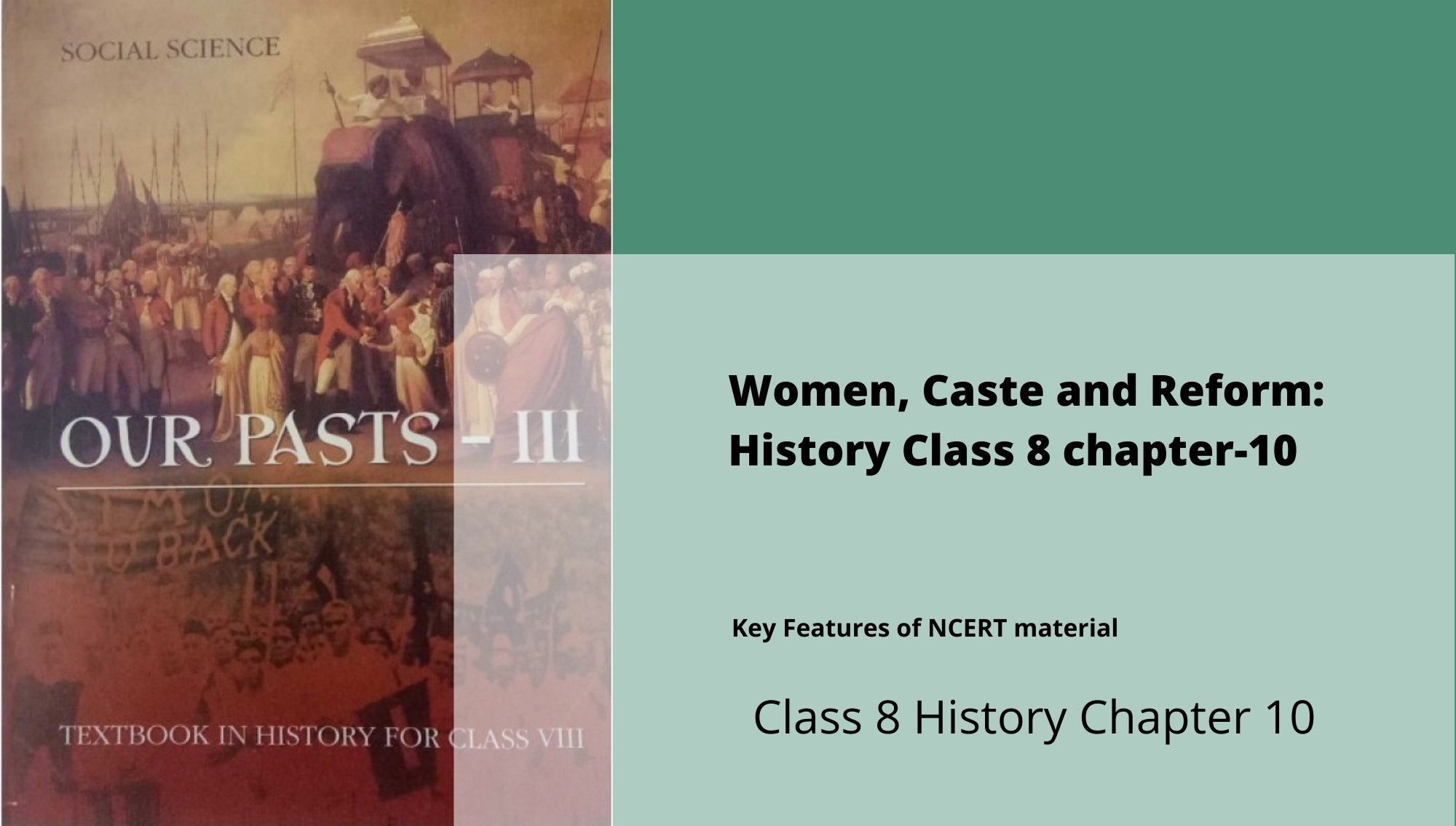 Key Features of NCERT Material for Class 8 History Chapter 10 – Women, Caste and Reform
Quick revision notes
In Chapter 9 of Class 8 NCERT book: Civilising the "Native", Educating the Nation you must have learnt about civilization . In chapter 10: of the Class 8 History NCERT textbook: Women, Caste and reform you will learn about the women and caste reformation.
Introduction
Early Years
• Before two hundred years, society was totally different specially for women.
• Most children were married off at an early age specially women.
Both Hindu and Muslim men could marry more than one wife.
'Sati Pratha' (a widow burn herself on the funeral pyre of their husbands) was prevailing in Hindu society.
Women's rights to property were also restricted.
Most women had virtually no access to education.
In most regions, people were divided along lines of caste.
→ Brahmans and Kshatriyas considered themselves as "upper castes".
→ Traders and moneylenders, referred to as Vaishyas were placed after them.
→ Peasants, and artisans such as weavers and potters referred to as Shudras were at the lowest rung.
Over the nineteenth and twentieth centuries, many of these norms and perceptions slowly changed.
Working Towards Change
From the early nineteenth century, after the development of new forms of communication, debates and discussions about social customs and practices started.
These debates were often initiated by Indian reformers and reform groups.
→ Raja Rammohan Roy (1772-1833) was one such reformer who founded a reform association known as the Brahmo Sabha (later known as the Brahmo Samaj) in Calcutta.
Reformers were those people who felt that changes were necessary in society, and unjust practices needed to be done away with.
He was interested in spreading the knowledge of Western education in the country and bring about
greater freedom and equality for women.
• He wrote about the way women were forced to bear the burden of domestic work, confined to the home and the kitchen, and not allowed to move out and become educated.
Till the nineteenth century, the state of Indian ladies was unfortunate. Their condition was disgraceful, which was showed in different social disasters, for example, kid marriage, female child murder, sati framework, and so on.
Raja Rammohan Roy and his Brahmo Samaj were pioneers in supporting the liberation of ladies.
Ishwarchandra Vidyasagar, Keshab Chandra Sen, Rabindranath Tagore, Derozio, Begum Rokeya Shekhawat Hossain, all worked for the liberation of ladies.
Various ladies affiliations were shaped which made social awareness and furthermore voiced general supposition on certain significant issues identified with ladies.
Around 200 years back our general public was not as it is currently. It had forced numerous boundaries on ladies. They couldn't go to class, they couldn't wed by their wither and so on. In certain pieces of the nation, sati pratha existed and widows were commended on the off chance that they picked passing by consuming themselves on the burial service fire of their spouses.
Things have been incredibly changed at this point. Ladies are currently appreciating better situation in each field. They are getting high instruction, and are doing tasks after that. In spite of the fact that station feeling isn't totally uncovered, yet its power has been limited significantly.
What positive changes we find in our general public have not happened for the time being. It took long a very long time to happen.
Raja Rammohun Roy was one such reformer. He established the Brahmo Samaj in Calcutta.
He needed to spread Western training in the nation. He upheld for ladies training. He firmly disliked the arrangement of sati. Numerous British authorities additionally reprimanded Indian conventions and customs. They upheld Raja Rammohun Roy. At last sati pratha was restricted in 1829.
Ishwarchandra Vidyasagar was an incredible social reformer. He supported widow re-marriage. English authorities upheld his motivation and passed a law in 1856 that allowed widows to re-wed. Master Dayanand Saraswati, organizer of Arya Samaj, additionally upheld widow re-marriage.
These reformers felt that so as to improve the state of ladies it was important to instruct them. For this reason a few schools were opened for young ladies by the endeavors of Vidyasagar and different reformers.
People responded forcefully against sending young ladies to schools. Thus, they were instructed at homes all through the nineteenth century.
In noble Muslim families in North India, ladies figured out how to peruse the Koran in Arabic. They were instructed by ladies who got back home to educate.
Muslim ladies like the Begums of Bhopal did a great deal for the advancement of training among ladies.
They set up a grade school for young ladies at Aligarh.
Begum Rolceya Sakhawat Hossain likewise opened schools for Muslim young ladies in places like Patna and Calcutta.
Rank disparities had cippled our general public. Reformers put forth true attempts to uncover these indecencies from society.
Throughout the nineteenth century, Christian evangelists got dynamic. They set up schools for ancestral gatherings and lower standing youngsters.
People having a place with lower standings started to sort out developments from the second 50% of the nineteenth century against position separation. They requested social fairness and equity. In this association we can make reference to the Satnami Movement in focal India, started by Ghasidas who originated from a low position.
In eastern Bengal, Haridas Thakur's Matua group worked among low standing Chandala cultivators. Haridas addressed Brahmanical messages that upheld the station framework.
Jyotirao Phule, likewise a low-station pioneer, assaulted the Brahmans, guarantee that they were better than others, since they were Aryans.
He recommended that Shudras (working stations) and Ati Shudras (untouchables) ought to join to battle against position discrimination.x
He established Satyashodhak Samaj that propogated rank balance. In 1873, he composed
a book named Gulamgiri meaning subjugation. _
Dr B.R. Ambedkar and Ramaswami Naicker proceeded with the development for rank change in the twentieth century.
In 1927, he began a sanctuary passage development, which was despised by the Brahman ministers.
E.V. Ramaswamy Naicker, prevalently known as Periyar, established the Self Respect Movement. He propelled untouehables to battle for their nobility and sense of pride. He was likewise an extraordinary pundit of Hindi sacred texts.
The Brembo Samaj established by Raja Rammohun Roy in 1830 to disallow all types of excessive admiration and penance.
Derozio and Young Bengal — Henry Louis Vivian Derozio, an instructor at Hindu College, Calcutta started the Young Bengal Movement during the 1820s to advance radical thoughts and urge his understudies to scrutinize all position.
The Ramakrishna Mission and Vivekananda. Vivekananda built up the Ramakrishna Mission to push the standards of salvation through social help and magnanimous activity.
The Prarthana Samaj. Built up in 1867 at Bombay, the Prarthana Samaj worked for eliminating station limitations, empowering the training of ladies, and so forth.
The Veda Samaj. It was built up in 1864. It attempted to annul position differentiations and advance widow Remarriage and ladies' training.
The Aligarh Movement. Sayyid Ahmed Khan established the Mohammedan Anglo-Oriental College in 1875 at Aligarh. It later got renowned as the Aligarh Muslim University. The establishment offered present day instruction. It is known as the Aligarh Movement.
The Singh Sabha Movement. This development looked to liberate Sikhism from odd notions, station differentiations and practices seen by them as non-Sikh.
Sati: It implies prudent ladies. These ladies picked demise by consuming themselves on the burial service fire of their spouses.
Distant: Untouchables were viewed as the least by the upper-standing people. They were denied section in sanctuaries, cafés, and so forth.
Gulamgiri: A book composed by Jyotirao Phule. It implies servitude.
Stripurushtulna: A book distributed by Tarabai Shinde. It implies a correlation among ladies and men.
Traditionalist: Those who need to adhere to old conventions and customs and restrict new changes.
Testimonial: The option to cast a ballot.
1772-1833 – Raja Rammohun Roy got a ton transformations the Indian culture during this period.
1829 – Sati was restricted.
1856 – A law was passed to allow widow remarriage.
1875 – The Arya Samaj was established.
1929 – The Child Marriage Restraint Act was passed.
1927-1935 – Ambedkar drove three sanctuary section developments between this period.