Poverty as a Challenge: Economics Class 9 Chapter-3
Poverty as a Challenge: Economics Class 9 Chapter-3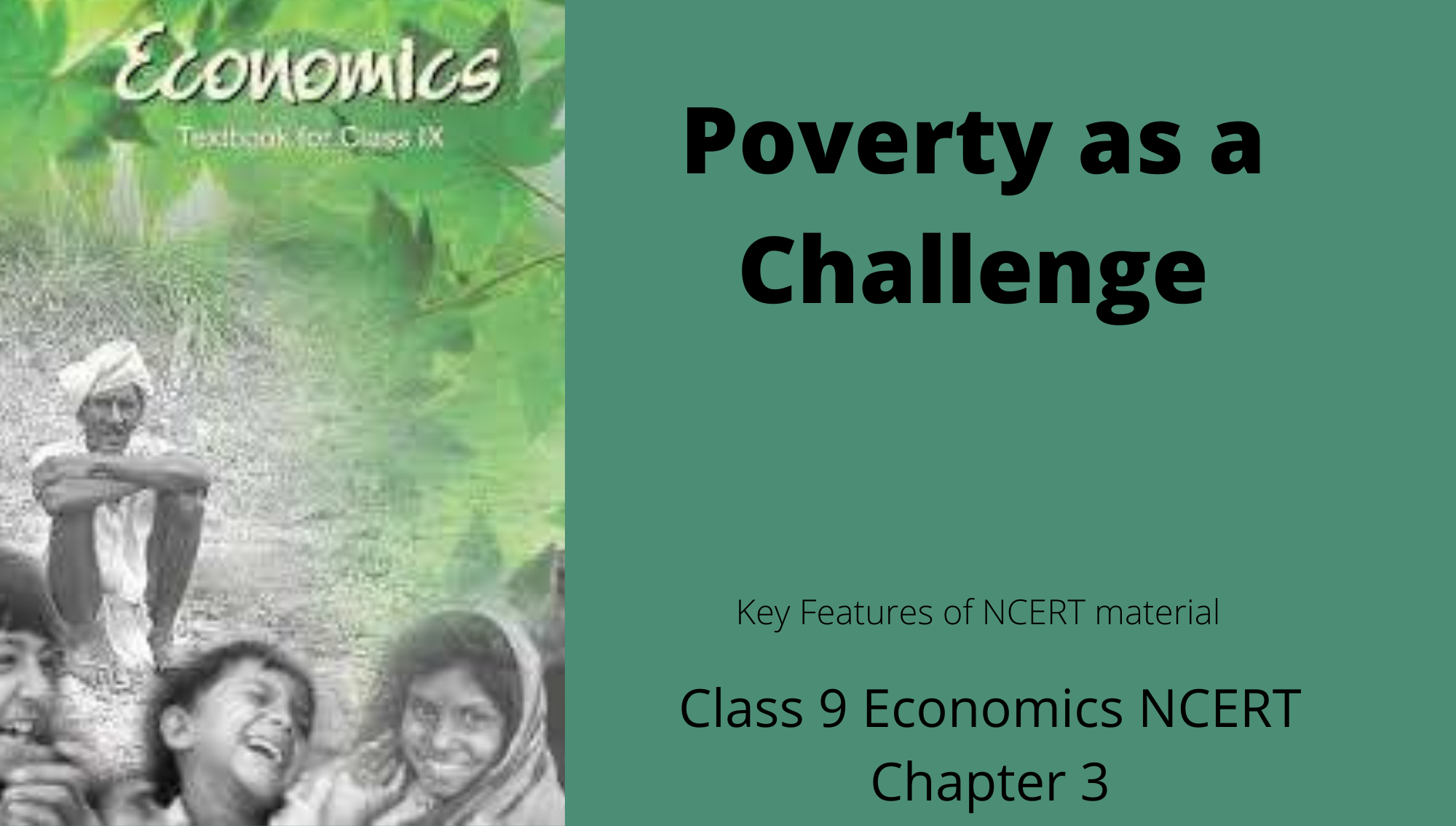 Key Features of NCERT Material for Class 9 Economics Chapter 3 – Poverty as a Challenge
Quick revision notes
In Chapter 2 of Class 9 : you must have learnt about People as Resources. In chapter 3:  you will learn about Poverty as a Challenge.
Introduction
In our daily life, we see poverty all around us. They could be landless labourers in villages, people living in overcrowded jhuggis in cities, daily wage workers or child workers in dhabas. According to facts, in India every fourth person is poor.
Two Typical Cases of Poverty
Poverty means hunger and lack of shelter, lack of clean water and sanitation facilities, lack of a regular job at a minimum decent level. Poverty is considered as one of the biggest challenges of independent India. India would be truly independent only when the poorest of its people become free of human suffering.
Social scientists look at poverty through a variety of indicators. Usually, the indicators are used to relate to the levels of income and consumption. But, now poverty is looked through other social indicators like illiteracy level, lack of general resistance due to malnutrition, lack of access to healthcare, lack of job opportunities, lack of access to safe drinking water, sanitation etc.
Poverty Line
The poverty line is a method to measure poverty based on income or consumption levels. Poverty line varies according to time and place. In India, the poverty line is determined through a minimum level of food requirement, clothing, footwear, fuel and light, educational and medical requirement, etc.. These physical quantities are multiplied by their prices in rupees. In India poverty is calculated on the basis of the desired calorie requirement. The accepted average calorie requirement in India is 2400 calories per person per day in rural areas and 2100 calories per person per day in urban areas. On the basis of these calculations, for the year 2011–12, the poverty line for a person was fixed at Rs 816 per month for rural areas and Rs 1000 for urban areas. The Poverty Line is estimated periodically (normally every five years) by conducting sample surveys carried out by the National Sample Survey Organisation (NSSO).
Poverty is the most troublesome test looked by autonomous India. Poverty is a condition wherein an individual comes up short on the money related assets and basics things to appreciate least norms of life. Needy individuals can be landless workers in towns, jhuggi and ghetto inhabitants in urban communities and towns, day by day wage laborers at building destinations, youngster , laborers in dhabas or even hobos. India has the biggest single convergence of the poor on the planet, where each fourth individual is poor.
Two Typical Cases Of Poverty
The accompanying two cases show the numerous components of poverty, including absence of appropriate food, cover, medical care, instruction just as spotless water and sterilization. They additionally show absence of a customary methods for business.
(I) Urban Case
Smash Saran is an every day wage worker in a flour factory close Ranchi in Jharkhand. He wins around Rs. 1500 every month when utilized. He underpins his group of 6 people, other than sending some cash to his old guardians. His better half and child likewise work, however none of his 4 kids can go to class. The family lives in a one-room leased house on the external zones of the city; The youngsters are undernourished, have not many garments or footwear and no admittance to medical services.
(ii) Rural Case
Lakha Singh is a landless worker in a little town close Meerut in Uttar Pradesh. By doing random temp jobs for ranchers, he procures Rs. 50 every day. Now and again, he gets some foodgrain or different things rather than money. He isn't educated and his group of 8 individuals lives in a kuchha cottage close to the edge of the town. They have no admittance to medical care, can't manage the cost of new garments or even cleanser or oil.
Pointers for Poverty
The most normally utilized markers for poverty investigation are social rejection and weakness.
Social Exclusion
A social avoidance implies living in a poor encompassing with destitute individuals, rejected from getting a charge out of Social uniformity of happier individuals in the better encompassing. Social prohibition can be a reason just because of poverty which prompts avoidance of people or gatherings from offices, advantages and openings that others appreciate.
In India, the station framework depends on social prohibition. Individuals having a place with certain position were kept from appreciating equivalent offices, advantages and openings. This caused more poverty than the lower salary.
Poverty Line
Poverty line is a nonexistent line utilized by any nation to decide its poverty. It is viewed as suitable by a nation as indicated by its current accepted practices. It fluctuates every once in a while, all around and nation to nation.
The most widely recognized strategy for deciding poverty is pay or utilization levels for example individuals will be viewed as poor if their salary or utilization level falls under a given 'least level' (poverty line) important to satisfy the essential needs.
Poverty Line Estimation in India
In India, a means level or least degree of food prerequisite (as controlled by its calorific worth), dress, footwear, fuel, lighting,- instructive and clinical necessities, and so on are resolved for assessing the poverty line. Since ih rustic and urban zones, the idea of work and the costs of merchandise are unique, the calorific necessity and consumption per capita are likewise extraordinary.
Poverty line defined by the government as follows
The cash esteem required for purchasing these calorie necessities (given in the last segment) regarding foodgrains and different things is reconsidered intermittently dependent on ascend in costs of these products. In urban regions, the costs of fundamental things is higher when contrasted with the country territories thus, the poverty line is higher regardless of having low calorific necessity every day.
Outline
The most troublesome test looked by autonomous India is poverty.
India has the biggest single convergence of the poor on the planet, where each fourth individual is poor.
Social researchers examination poverty from numerous viewpoint other than level of pay and utilization.
These viewpoints incorporate helpless degree of proficiency, absence of openings for work and so on.
Social rejection aneb* weakness are the most ordinarily utilized pointers for poverty investigation.
The poverty line is a nonexistent line utilized by any nation to decide is poverty. It differs time to time, all around and nation to nation.
The most well-known strategy for deciding poverty is salary or utilization levels.
The calorific necessity and consumption per capita are distinctive for urban and country territories.
Reviews for deciding poverty lines are done by the National Sample Survey Organization (NSSO).
The association is under the Ministry of measurements and program usage of the Government of India.
Poverty among social gatherings and financial classifications differs generally in India.
Female babies, ladies and old part are not given equivalent admittance to assets accessible to the family.
Bihar and Odisha keep on being the two most unfortunate states with poverty proportions of 33.7% and 37.6% separately.
In states like Kerala, Andhra Pradesh, Gujarat, there is noteworthy decrease in poverty.
The extent of individuals living under poverty in various nations is characterized by the worldwide poverty line for example populace underneath $ 1 every day.
There is decrease in poverty in South-East Asia and China because of fast financial development and enormous interest in human asset advancement.
The Millenium Development Goals of the United Nations figured in 2000, call for lessening the extent of individuals living on not exactly $ 1 per day to a large portion of the 1990 level by 2015.
There are numerous reasons for the pervasiveness of poverty in India like joblessness, low financial turn of events and pay imbalances.
Expulsion of poverty has been one of the significant destinations of Indian formative system.
There is a solid linkage between financial development and poverty decrease.
The Government of India presented focused on hostile to poverty programs beginning from 1990.
Poverty decrease is as yet a significant test in India, because of the wide contrasts between locales just as rustic and urban zones.