Food Security in India: Economics Class 9 Chapter-4
Food Security in India: Economics Class 9 Chapter-4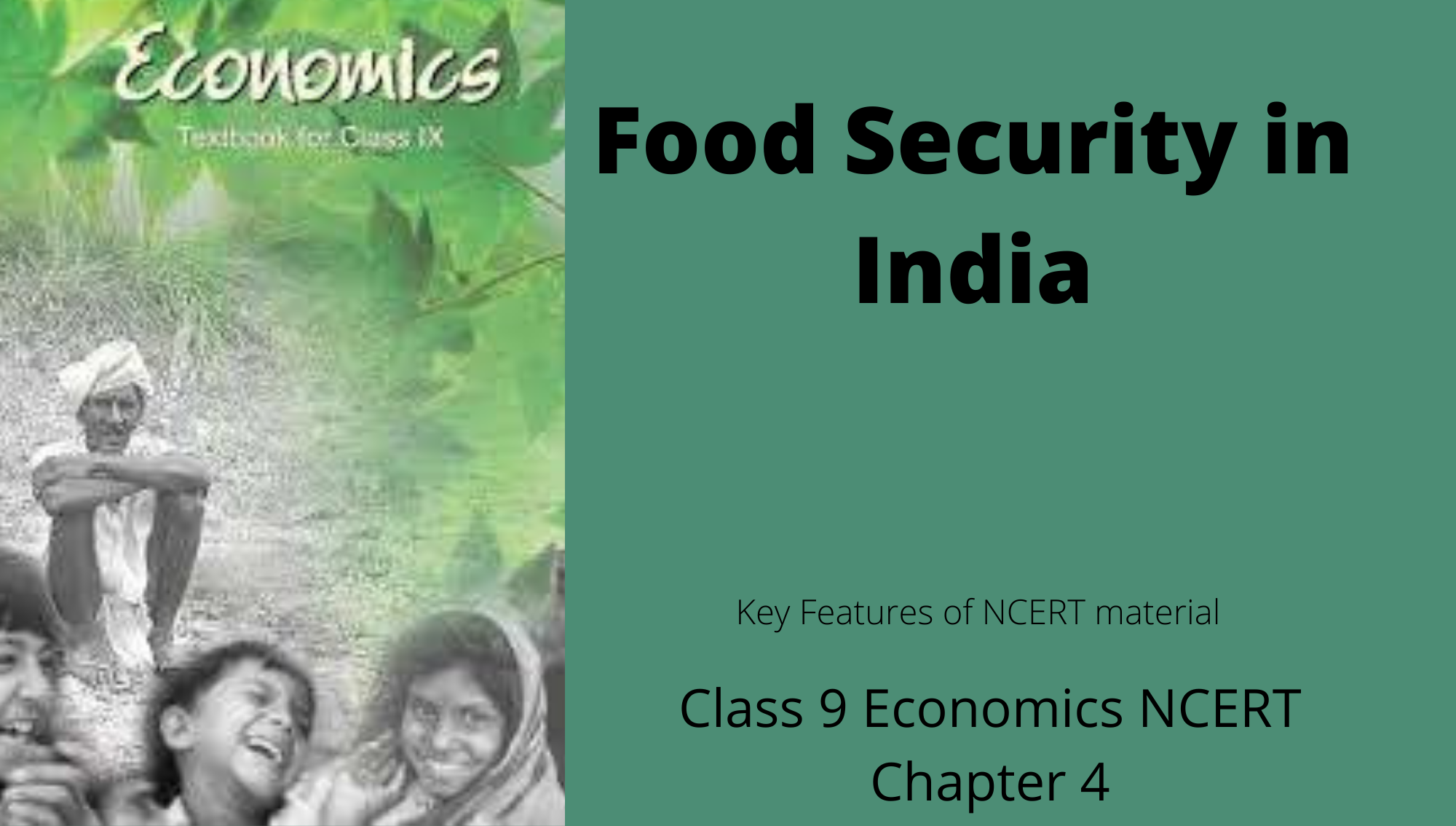 Key Features of NCERT Material for Class 9 Economics Chapter 4 –   Food Security in India
Quick revision notes
In Chapter 3 of Class 9 : you must have learnt about Poverty as a Challenge . In chapter 4:  you will learn about Food security in our nation.
What is food security?
Food is as essential as air. Food security meansavailability of food to all, and available food is accessible to all and accessible food is affordable to all people at all times.
→ Here, food availability refers to availability of food in countries.
→ Accessibility of food means food is within people's reach.
→ Affordability for food refers to people are able to buy it.
→ Creation of "Buffer stock" is also done in this system.
Why food security?
Food security is helpful at the time of natural disaster when there is lack of food.
→ At the time of natural disaster like earthquake, flood, or drought etc., production of foodgrains decreased which creates a situation of decrease in food availability.
→ The attainment of food security therefore involves eliminating current hunger and reducing the risks of future hunger.
→ Famine of Bengal in 1943 was the most devastating famine.
Who are food-insecure?
→ In rural areas, landless and small farmers, traditional artisans like blacksmith, providers of services like washermen, petty self-employed workers and destitute are came under the category of food-insecure.
→ In urban areas, persons who employed in ill-paid occupations and casual labourers are food insecure, these labour came under seasonal workers and have low wages.
→ Children under the age of 5 years, large proportion of pregnant and nurshing mothers are also came under the category of food-insecure.
→ Person who is not able to fulfil their daily requirements or people came below poverty line are also food-insecure.
→ People belonging to some scheduled castes and OBC are also came under the head of food insecure.
→ In India, some states has large number of food-insecure like, Bihar, Orissa, Uttar Pradesh, Jharkhand, West Bengal, Chhattisgarh, parts of Madhya Pradesh and Maharasthra.
→ Hungers are also came under the category of food insecure. It has chronic and seasonal dimensions.
Food security alludes to accessibility, availability and moderateness of food to all individuals consistently. Food security depends, on the Public Distribution System (PDS) and government cautiousness and time to time activity, when this security is compromised. 
What means Food Security 
Food security implies accessibility of sufficient gracefully of essential groceries consistently. 
The 1995 World Food Summit pronounced, "Food security at the individual, family unit, local, public and worldwide levels exists when all individuals, consistently, have physical and financial admittance to adequate, sheltered and nutritious food to meet their dietary needs and food inclinations for a functioning and solid life". The statement further perceives that "destitution annihilation is fundamental to improve admittance to food". 
Food security has the accompanying measurements 
Accessibility of Food It implies food creation inside the nation, food imports and the earlier years stock put away in government storage facilities. 

Availability of Food It implies food is close enough for each individual. 

Moderateness of Food It infers that an individual has enough cash to purchase adequate, sheltered and nutritious food to meet one's dietary needs. 
The above measurements reason that food security is guaranteed in a nation in particular if * Enough food is accessible for all the people. 
All people have the ability to purchase food of satisfactory quality. 

There is no hindrance on admittance to food. 
Need Of Food Security 
Food security is required in a nation to guarantee food consistently. It is expected to guarantee that no individual in a nation bites the dust of appetite. 
Projects For Food Security In India 
In mid-1970s, National Sample Survey Organization (NSSO) announced the high frequency of destitution level. Because of this, three significant food mediation programs were presented. 
They are 
Public Distribution System (PDS) for foodgrains 

Integrated Child Development Services (ICDS) 

Food For Work (FFW) program. 
Job Of Cooperatives In Food Security 
The pretended by cooperatives in food security of India is significant particularly in the Southern and Western pieces of the nation. The agreeable social orders set-up shops to offer low estimated merchandise to needy individuals. For instance, out of all reasonable value shops running in Tamil Nadu, around 94% are being controlled by the cooperatives. 
The models appeared beneath are examples of overcoming adversity of cooperatives so as to contribute in food security of India 
In Delhi, Mother Dairy is gaining ground in the arrangement of milk and vegetables to the shoppers at a controlled rate chose by the Government of Delhi. 
Amul is another example of overcoming adversity of cooperatives in milk and milk items from Gujarat. It has achieved the White Revolution in the nation. 
In Maharashtra, Academy of Development Science (ADS) has encouraged a system of NGOs for setting up grain banks in various districts. Promotions arranges preparing and limit building programs on food security for NGOs. The ADS Grain Bank program is recognized as an effective and inventive food security intercession. 
Outline 
The accessibility, openness and moderateness of food to all individuals consistently is called food security. 
When there is issues in food creation or appropriation, helpless family unit needs to endure the most. 
The food, security in India relies upon the Public Distribution System (PDS) and watchful and ideal activity of the administration. 
Food is a fundamental thing for the endurance of individual. 
Food security of a country is guaranteed if the entirety of its residents have enough nutritious food accessible (accessibility), all individual having the ability to purchase food (affordability) and there is no obstruction on admittance to food (availability). 
The least fortunate layers of society are generally food uncertain and the happier may confront food frailty during public fiasco and catastrophe. 
During common catastrophe there is decline in foodgrain creation, which causes deficiency of foodgrain. The expanded cost at last prompts starvation and starvation. 
Plagues during starvation is brought about by constrained utilization of sullied water or rotting food and loss of body opposition because of debilitating from starvation. 
Landless individuals, conventional craftsmans, unimportant independently employed specialists and destitutes Including hobos are most noticeably terrible influenced bunches from food and sustenance frailty. 
Laborers of badly paid occupations and easygoing worker are the most food shaky individuals in urban regions. 
Agribusiness is occasional and low paying action. 
Other than the failure to purchase food, the social creation (like SCs, STc, OBCs and so on) additionally has job in food weakness. 
Financially in reverse states, with high frequency of destitution, ancestral and country territories, locales inclined to cataclysmic event has biggest number of food unreliable individuals. 
For instance, Bihar, Jharkhand, Eastern UP, West Bengal, Madhya Pradesh, Maharashtra and so on. 
Destitution and appetite are two elements of food frailty. 
Craving can be constant or occasional. 
The interminable appetite is the outcome of an eating regimen normally inadequate in amount and quality because of absence of salary. 
The occasional yearning is the outcome of occasional nature of food creation and reaping which influences landless horticultural workers the most. 
Through Green Revolution, India accomplished independence in foodgrain creation. 
The food security arrangement of government comprise of segment of support stock and public appropriation framework. 
Support stock is the load of foodgrains (wheat and Rice) acquired by government (through FCI) from surplus creating state for dissemination (through PDS) to shortage states and the least fortunate segment of society. 
The pre-reported cost, paid by government to ranchers is called Minimum Support Price (MSP). 
The cost at which foodgrains is circulated to more unfortunate segment of individuals is called issue cost. It is lower than market cost. 
The arrangement of circulation of food secured by the FCI among the more unfortunate segment of society is known as the Public Distribution System (PDS). 
Proportion shops (otherwise called reasonable value shops), keep supplies of foodgrains, sugar, lamp oil and so on to be offered to individuals at a value lower than market cost. 
Notwithstanding PDS, the other destitution mitigation program including segment of food security are : Integrated Child Development Service (ICDS); Food For Work (FFW), noontime suppers, Antyodaya Anna Yojana (AAY) and so on. 
Different cooperatives, NGOs are additionally working seriously alongside government to guarantee food security of India. 
Mother Dairy, Amul, Grain banks are viewed as fruitful and advancement food security intercession.